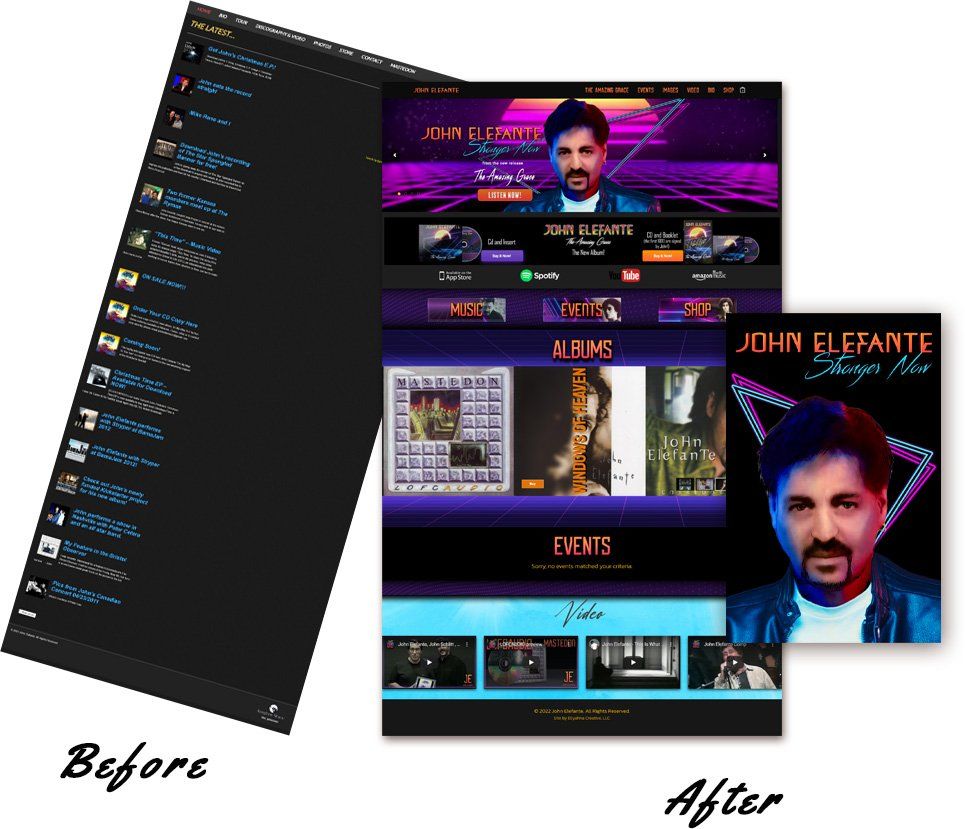 The Challenge
John Elefante needed a new website with a fresh design. He also needed a way to showcase his digital downloads, photos and videos. Limitations and deadlines were coordinated with his publishers and the new site design had to match the new release.
The Goal
The goal for the project included setting up a new shop for fans looking to add John's digital downloads to their collections. The theme required an 80s feel and includes various custom graphics and animations in bright retro colors to match the new album cover and booklet style.
The Design
The color palette features a black based design with neon-like pink and blue elements. The bright orange gradient icons and logo make John's branding "pop" throughout the site. A simple nav for desktop or mobiles lends to ease of navigation along with sliding areas to rotate showcased elements.

Project Summary
The pages are bright with featured products and navigation options front and center. All of Johns photos, videos, and files are showcased for optimal browsing and dependable functionality. A link for purchasing the new release is prominently placed with plenty of room for growth on the photo and video collections. John is not only a phenomenal singer, he was also a joy to work with. Check out his music on his new website today!
Tell Us About Your Project
We are independent consultants who can deliver world-class solutions that solve your toughest business problems. We look forward to exceeding your expectations.