ABOUT
Here's a little more info about who we are and how we work.
Get all of the knowledge and experience offered by large agencies at a web-team price.
Who are we?
We are a team of senior-level developers and experts in marketing, design, application and web development. We've been designing and developing websites and marketing media both remotely and on location for more than two decades. Many of them leading to rapid user growth, large increases in sales and exposure as well as millions in startup funding.
We've designed web apps, native apps, e-commerce websites, and marketing media for clients in industries including law, alternative health, automotive, service trades, beauty, advertising, music, food and more.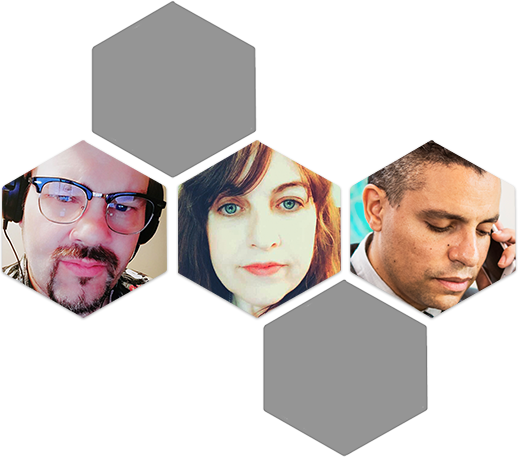 You can get to know us better by following us on Dribbble, Twitter, Facebook or LinkedIn.
Mentality
Behind every design and development project is a business problem that requires a solution. We work with our clients to carefully identify this problem and strategize the perfect solution for their business. Design and development should be an investment (not an expense), so we only take on projects where our fees are less than the projected value of our work.
With the benefit of decades of experience from our senior developers, many pitfalls and obstacles are cleared up before they even become apparent. As a result, every build is completed in less time with greater perfection, saving the client money in coding hours and lost traffic.
We concentrate on not only conveying your business' message in an appealing way, but we pay attention to the tone and style that makes you unique and work to employ your media as a direct reflection of yourself and your specific vision.
Work Ethic
We're dedicated to working tirelessly on behalf of our clients. Their business problems can sometimes be difficult to solve… so we take the time to think deeply about the solution that will deliver the results on time and on budget. We've been working with business owners since 1997 and forge outstanding relationships while working hard to make their business grow.
We employ only white-hat best practices and fully test our coding for cross-browser and device compliances. Every build includes 30 days of free maintenance to ensure that the appearance and functionality are completely satisfactory.
Tell Us About Your Project
We are independent consultants who can deliver world-class solutions that solve your toughest business problems. We look forward to exceeding your expectations.