Arizona Soap Supply
Soap Making Supplies
The Challenge
Arizona Soap Supply had a site with an outdated theme that wouldn't function with the latest PHP updates. Many features had become broken and would have to be repaired or re-coded. The site was not secure and did not have a working shopping cart system but functioned more like an online catalog.
The Goal
Arizona Soap Supply is the foremost supplier for soap making enthusiasts nation-wide. With so many past and current clients, they wanted to ensure that everything was functional and worked to provide a fast, accurate, and secure online shopping experience.
The Design
The new design would not be much different at first glance, however, all elements were rearranged to ensure a proper fit on any viewing device and smarter use of white-space with much greater functionality behind the scenes.

The palette changed only slightly and still matches the company branding for a seamless and cohesive feel.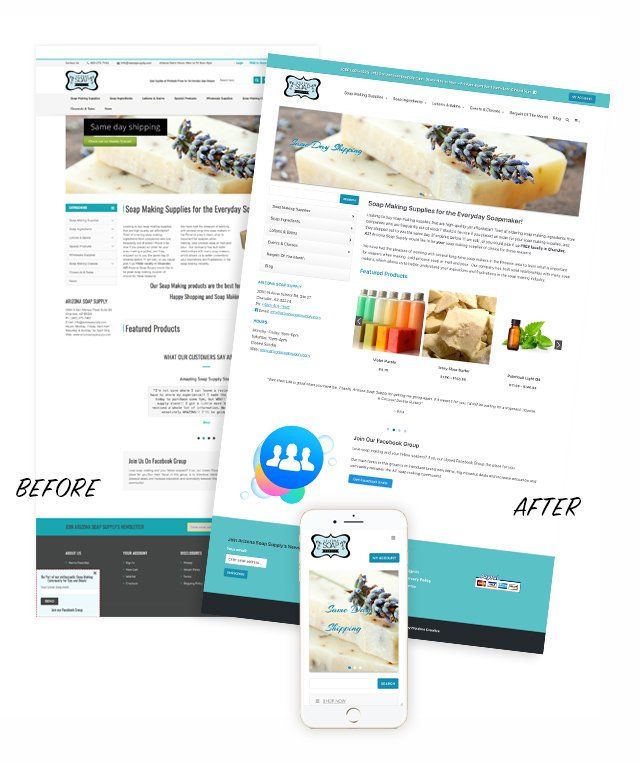 Project Summary
The new website is fast-loading and SEO ready. The fully functional shop is secured and linked in with APIs for live shipping rate retrievals from FedEx and USPS. The WordPress database keeps users accounts on hand for personal wish list creation, social sharing, and cart saves. SEO readiness and updated coding raised the overall rankings more than 60% while the secure shopping cart system and shipping rate programs have cut the proprietor's work in half!
Tell Us About Your Project
We are independent consultants who can deliver world-class solutions that solve your toughest business problems. We look forward to exceeding your expectations.